TOP 4 Manufacturers That Produces Epoxy Guns
Views: 64 Author: Site Editor Publish Time: 2021-07-06 Origin: Site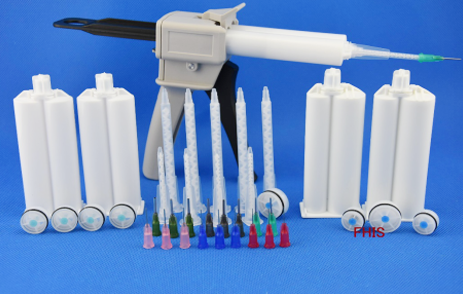 This article is for those who are looking for epoxy gun supplier or looking to get a cheap price from manufacturers. To make sure you find the right product, please read this.
There are certain Epoxy gun factories that you'll want to invest in. Read more below for a list of the top companies that produce epoxy guns, also manufacture products like Static Mixers Tips, Spray Bottle, etc.
1.Sayyes (Shiyu)
This brand is known for its extensive experience in field of adhesive application and static mixing of adhesives. They will support you to find the most suitable adhesive solution.

They can provide the best solution for each adhesive application. They also have a long-term and good cooperation with China's famous adhesive brand. The dispensing equipment manufacturers. Sayyes can provide you with a complete set of products and services for glue filling. Sayyes helps its customers achieve greater value.

Collagraf srl has been founded in 2005 as the hot melt division of Elettrograf s.a.s, which began to produce hot melt adhesive in 1979. Collagraf is nowadays a cutting-edge manufacturer of hot melt adhesives, trusted by thousands of customers in 32 different countries all over the world. Constant efforts in research and innovation enable Collagraf to manufacture a really wide range of hot melt adhesives, which are used in many different industries and markets.
Collagraf's production plant is located very close to Milan city centre and it can rely on four different production lines where are currently manufactured: E.V.A. hot melt adhesives, METALLOCENE-based hot melt adhesives, ACRYLIC hot melt adhesives, POLYAMIDE hot melt adhesives and E.V.A. + pressure sensitive compounds. An additional and crucial advantage provided by Collagraf is that every hot melt adhesive formulation can be produced in different shapes: Stick (7, 8, 11, 12, 15 mm diameter), Slugs (43 mm diameter), granules and pellets; in order to satisfy any need and requirement coming from market or customers
Solvay is a science company whose technologies bring benefits to many aspects of daily life. The company bonds people, ideas and elements to reinvent progress—is a call to go beyond, to reinvent future forms of progress and create sustainable shared value for all through the power of science. In a world facing an ever-growing population and quest for resources, it aims to be the driving force triggering the next breakthroughs to enable humanity to advance while protecting the planet Solvay all share.
4. Glue Machinery Corporation™
For over 55 years, Glue Machinery Corporation™ has met the hot melt and cold glue machinery needs of manufacturers from a wide range of industries. It has thousands of systems in operation worldwide in packaging, product assembly, converting, electronics, construction, automotive, aerospace and the printing industries.
Originally, the company started out as a distributor of industrial equipment, but over time, it's grown to a full-scale manufacturer of quality industrial adhesive machinery and a large supplier of adhesives.

-You can also find the manufacturers directly on these platform
The easiest and most cost-effective place to start a search for suppliers in China is B2B sourcing platforms like DHgate, Alibaba, Global Sources, and Made-in-China.com. Thousands of suppliers are listed on these sites, and you can streamline your search and increase the number of legitimate sources by filtering results for only those entries labeled as "gold member," "verified supplier," "onsite supplier," or "accredited supplier." Good reviews offer some indication that the supplier is legitimate. Some B2B sourcing platforms have endorsed service provider lists and supplier blacklists. For example, Alibaba has a list of banned members. It makes outsourcing easier and safer.