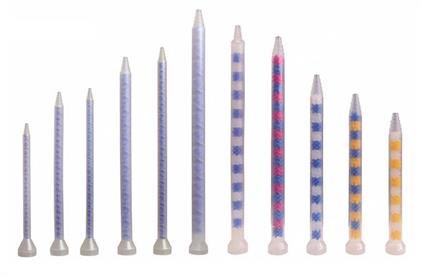 In various industries, mixing components is a crucial process. Whether blending chemicals, combining different liquids, or homogenizing materials, achieving a consistent and thorough mixture is vital for ensuring product quality and performance. One popular tool used for this purpose is the disposable static mixer. This article will provide an in-depth understanding of disposable static mixers, their working principles, applications, and the importance of choosing a reliable supplier.
What is a Disposable Static Mixer?
A disposable static mixer is a specialized device that efficiently mixes two or more components. It is typically a small, tube-like structure with multiple internal elements, called mixing elements or elements, arranged in a specific configuration. These elements create turbulence and facilitate thorough mixing as the components pass through the mixer.
Unlike traditional mixers, disposable static mixers do not have any moving parts. They rely solely on the flow of the components to generate mixing action. This makes them easy to use, low maintenance, and cost-effective since they do not require power sources or replacement parts.
How Does a Disposable Static Mixer Work?
Disposable static mixers operate based on the principles of laminar flow and shearing. When two or more components enter the mixer, they flow through the internal elements strategically positioned to induce turbulent flow patterns. This turbulence causes intense intermixing, breaking down any lumps or inconsistencies in the components.
The mixing elements inside the disposable static mixer can take various forms, such as helical elements, baffles, or special geometries. The choice of element configuration depends on the specific application requirements, including the viscosity of the components, desired mixing efficiency, and pressure drop limitations.
The length and diameter of the disposable static mixer also play a crucial role in determining the extent of mixing achieved. Longer mixers with smaller diameters increase mixing efficiency due to increased contact time between the components and the mixing elements.
Applications of Disposable Static Mixers
Disposable static mixers find applications across a wide range of industries and processes. Here are a few common examples:
Adhesive Manufacturing
In the adhesive manufacturing industry, precise mixing of adhesive components is essential for maintaining product integrity. Disposable static mixers efficiently combine adhesives, curing agents, and additives to produce a consistent and homogenous adhesive mixture. The resulting adhesive can exhibit improved bonding properties, reduced curing time, and enhanced overall performance.
Chemical Processing
Disposable static mixers are widely used in chemical processing plants to blend and react to chemicals. They can efficiently mix liquids, gases, and viscous fluids, ensuring a homogeneous mixture for chemical reactions, pH adjustment, and other requirements. The disposable nature of these mixers makes them ideal for processes involving reactive or hazardous chemicals, eliminating the need for extensive cleaning or cross-contamination concerns.
Water Treatment
Disposable static mixers are crucial in the water treatment industry's pH adjustment, disinfection, and chemical dosing. By thoroughly blending treatment chemicals with water, these mixers help achieve consistent and efficient water treatment results. They are also commonly used to prepare coagulant dosing solutions, ensuring proper flocculation and sedimentation processes.
Choosing a Reliable Disposable Static Mixer Supplier
When selecting a disposable static mixer supplier, it is important to consider a few key factors to ensure product quality and performance:
Expertise and Experience
Look for a supplier with extensive expertise and experience designing and manufacturing disposable static mixers. A knowledgeable supplier will understand the unique requirements of different industries and provide tailored solutions for specific applications.
Customization Options
Each application may have specific requirements, and a reliable supplier should offer customization options. This includes the ability to customize the mixing elements' length, diameter, and configuration to optimize the mixer's performance for your specific needs. Additionally, the supplier should be able to provide various connector options to ensure compatibility with your existing equipment.
Quality and Durability
Ensure that the supplier maintains high quality control standards throughout the manufacturing process. The materials used in the construction of the disposable static mixer should be durable and resistant to corrosion, ensuring long-lasting performance. Look for suppliers who use advanced manufacturing techniques and adhere to industry standards to guarantee the reliability and durability of their products.
Regulatory Compliance
Specific regulatory requirements may apply to your mixing processes depending on your industry. Choosing a supplier that understands and complies with relevant industry regulations and standards. This ensures the disposable static mixer meets safety and quality standards, providing peace of mind during operation.
Timely Delivery and Customer Support
Efficient and timely delivery of products is essential to minimize downtime and keep your processes running smoothly. Choose a supplier with a track record of prompt order processing and delivery. Additionally, consider the level of customer support provided by the supplier. A reliable supplier should be responsive to inquiries, provide technical assistance when needed, and offer after-sales support to address any concerns or issues that may arise.
Conclusion
Disposable static mixers are valuable tools used in various industries to efficiently and thoroughly mix components. Their simplicity, low maintenance requirements, and cost-effectiveness make them popular for numerous applications. When selecting a disposable static mixer supplier, consider expertise, customization options, quality control, regulatory compliance, and customer support. By choosing a reliable supplier, you can ensure your mixing processes' performance, durability, and safety, ultimately improving product quality and operational efficiency.
Remember, investing in a high-quality disposable static mixer and partnering with a reputable supplier is essential for achieving optimal mixing results and maximizing the value of your manufacturing processes.
To help you better understand disposable static mixer, here is a video reprinted from youtube, you can also check the video on the original link: https://www.youtube.com/watch?v=yUbdJsXUATw