The plastic static mixer is commonly known as static mixing tube, dispensing static mixing nozzle, AB glue mixing tube, and is mainly used to mix two-component liquid materials. The use of the plastic static mixer provides a low-cost solution for the mixing of two-component liquids. The use of a static mixer tube can save labor, reduce waste, greatly increase productivity and reduce production costs.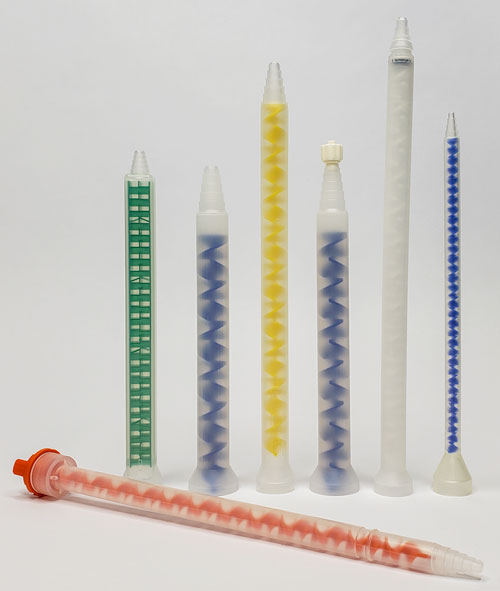 The custom epoxy static mixer intubation interface has better sealing performance than ordinary bayonet helical static mixer, and the fluid distribution is more scientific. The front and back blades of the spiral core are arranged in sequence and tightly integrated with the shell, so that the fluid AB glue mixing tube has a better effect.
Advantages of static mixer nozzle: when there is no bubble in the glue, no bubbles will be generated, uniform mixing, saving labor, reducing waste, effectively improving productivity and reducing production costs.
The static mixer pipe is widely used in various two-component adhesives, fillers and other fields such as epoxy resin, polyurethane, organic silica gel, etc.
Static mixer tubes are used in electronic production, electrical appliances manufacturing, civil engineering, automobile manufacturing, gift decoration and other industries. AB glue mixing tubes are widely used in the mixing of various two-component adhesives and fillers (including epoxy resin and silicone. It can be applied to any two-component liquid, epoxy resin PU, UV).
According to the mixing characteristics of the two-component adhesive, the static glue mixing tube can select products with different inner diameters and lengths to better solve the two-component mixing operation.
Haijing is the leading custom plastic static mixer manufacturer & supplier in China, with more than 10 years of manufacturing experience, specializing in the production of static mixers and wholesale of static mixer pipes. Affordable prices, good service, and we have accumulated many long-term cooperation customers and are trustworthy.Get a quote now!