Benefits of Using Static Mixer Nozzles in Industrial Processes
Views: 9 Author: Site Editor Publish Time: 2023-07-20 Origin: Site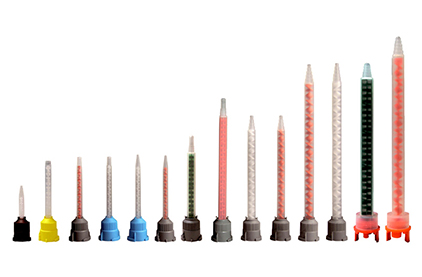 In industrial processes that involve mixing liquids, gases, or solids, achieving efficient and homogeneous mixing is crucial for optimal product quality and process efficiency. Static mixer nozzles are innovative devices that have gained significant popularity in various industries due to their ability to enhance mixing performance and streamline industrial processes. In this article, we will explore the benefits of using static mixer nozzles and how they can revolutionize industrial processes.
What are Static Mixer Nozzles?
Static mixer nozzles, also known as motionless mixers or inline mixers, are specialized devices designed to promote efficient mixing of fluids and substances. Unlike dynamic mixers that rely on moving parts, static mixer nozzles leverage the inherent motion of the fluid flow itself to achieve mixing. They are composed of a series of stationary elements, such as baffles, blades, or channels, strategically arranged within a cylindrical housing.
Enhanced Mixing Efficiency
One of the primary benefits of using static mixer nozzles is their ability to enhance mixing efficiency. The unique design and arrangement of the mixing elements create turbulence and shearing forces, ensuring thorough blending of substances. As fluids pass through the static mixer nozzles, they are subjected to intense interfacial contact, resulting in rapid and uniform mixing. This improved mixing efficiency leads to a reduction in processing time and improved product consistency.
Wide Range of Applications
Static mixer nozzles find applications in a wide range of industries and processes. They are commonly used in chemical processing, water treatment, pharmaceutical manufacturing, food and beverage production, and many other industrial sectors. Static mixer nozzles can handle a variety of fluid types, including liquids, gases, and even solids, making them versatile for different mixing requirements.
Homogeneous Mixing
Achieving homogeneous mixing is crucial in many industrial processes to ensure consistent product quality. Static mixer nozzles excel in producing homogenous mixtures by effectively dispersing and distributing the components throughout the fluid stream. The unique design of the mixer elements facilitates the breakup of agglomerates. It eliminates concentration gradients, resulting in a well-mixed product.
Compact and Space-Saving Design
Static mixer nozzles have a compact and space-saving design, making them suitable for both new installations and retrofitting into existing systems. They can be easily integrated into pipelines or tanks, requiring minimal space compared to other mixing solutions. This compact design allows installation flexibility and ensures efficient use of space in industrial facilities.
Energy Efficiency
Compared to traditional mixing methods that often require mechanical agitation or external energy sources, static mixer nozzles offer energy-efficient mixing solutions. Since they rely on the fluid flow itself for mixing, they eliminate the need for additional power consumption. This energy efficiency not only reduces operational costs but also contributes to sustainable and eco-friendly manufacturing practices.
Minimal Maintenance
Static mixer nozzles are relatively low-maintenance devices. Their simple design and absence of moving parts minimize the risk of mechanical failure or wear and tear. Additionally, their smooth internal surfaces prevent fouling and clogging, reducing the need for frequent cleaning and maintenance. This advantage translates into cost savings and increased uptime in industrial processes.
Conclusion
Static mixer nozzles offer numerous benefits that revolutionize industrial mixing processes. From enhanced mixing efficiency and homogeneous mixing to their compact design and energy efficiency, these devices have become indispensable tools in various industries. By investing in static mixer nozzles, companies can improve product quality, streamline production processes, and achieve greater operational efficiency.
If you're looking for high-quality static mixer nozzles for your industrial applications, look no further than Haijing. As a professional static mixer manufacturer, Haijing offers a wide range of static mixer solutions tailored to your specific needs. With their expertise and commitment to innovation, Haijing can provide you with reliable and efficient static mixer nozzles to optimize your industrial processes.