How do prevent bubbles from appearing in the dispensing syringe of the Dispensing Gun when dispensing?
Views: 10 Author: Site Editor Publish Time: 2022-06-24 Origin: Site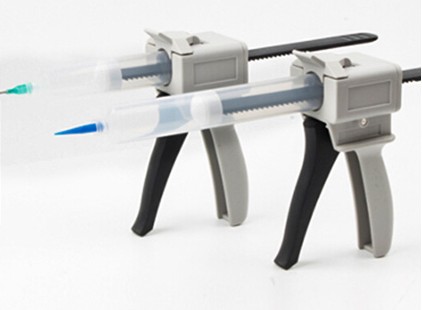 Is your Dispensing Gun oozing, dripping, or beading on the end of the dispensing needle? If all settings for the Dispensing Gun are correct, this may be the result of air entrapment. To prevent air from affecting the consistency of the glue point, when dispensing with a syringe barrel, use the following methods:
For low to medium viscosity fluids, hold the barrel at an angle.
If you are refilling syringe barrels with low to medium viscosity fluids, hold the barrel at an angle to prevent air bubbles from forming. Also, no matter the fluid's viscosity, it can only fill up to 2/3 the capacity of the syringe. Also, when dispensing, use the piston to help push the air out of the fluid.
Practical tip:
Fill the syringe and insert the plunger.

Hold the syringe with the head plug facing up, and flick the syringe. The bubbles will rise to the top.

Remove the head plug and slowly push the piston up to expel the large air bubbles.
For medium to high viscosity fluids, use a centrifuge
When thicker fluids contain trapped air, air bubbles compress and expand after each dispensing cycle. Bleeding will eventually occur, which is the leading cause of inconsistent glue dots. Using a centrifuge to vent air before dispensing is the best solution.
Remember that prepackaged fluids are usually defoamed. So it may be more beneficial if you fill syringe barrels in the factory. A centrifuge can be used to defoaming the syringes you dispense on site.
Store syringe barrels upright (head plug down)
Storing filled syringes will allow air bubbles to rise to the top overnight. For some fluids, you may need to pinch the barrel where the piston is, then use the end of the pencil to push the piston down to expel any rising air.
Another helpful tip: The fluid prepackaged in the syringe barrel doesn't always work with the best piston for your application. This can lead to inconsistent glue points. Pistons are available in various styles to optimize each unique dispensing process. Make sure the installed piston is suitable for your application.
One final tip: Keep the trachea shorter than 5 feet, another way to minimize the risk of air bubbles.