Types of Adhesive Dispensing Guns: A Comprehensive Guide
Views: 7 Author: Site Editor Publish Time: 2023-07-24 Origin: Site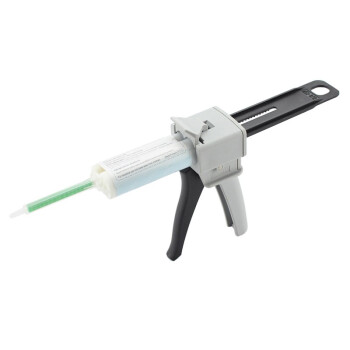 Adhesive dispensing guns are essential for precise and controlled application of adhesives, sealants, resins, and other materials. They come in various types, each designed to cater to specific applications and requirements. In this article, we will explore the different types of adhesive dispensing guns available in the market, providing a comprehensive guide to help you choose the right tool for your needs.
Manual Handheld Dispensing Guns
Manual handheld dispensing guns are the most common type and are widely used in various industries. These guns are manually operated, allowing operators to control dispensing by pulling the trigger. They offer simplicity, portability, and ease of use, making them suitable for small-scale and occasional dispensing tasks.
Pneumatic Dispensing Guns
Pneumatic dispensing guns utilize compressed air to control the dispensing process. They offer precise and consistent adhesive application with adjustable pressure settings. Pneumatic guns are suitable for high-volume dispensing applications that require speed and accuracy. These guns are commonly used in automotive, electronics, and construction industries.
Battery-Powered Dispensing Guns
Battery-powered dispensing guns provide cordless operation, offering convenience and mobility. These guns are ideal for applications with limited access to a power source or portability is a priority. Battery-powered guns often feature rechargeable batteries and adjustable settings to control the flow rate and dispensing pressure.
Electric Dispensing Guns
Electric dispensing guns are powered by electricity and offer precise control over dispensing. They often feature adjustable speed and pressure settings, allowing operators to fine-tune the adhesive application. Electric guns are suitable for low and high-viscosity materials. They can be used in various industries, including electronics, aerospace, and manufacturing.
Automated Dispensing Systems
Automated dispensing systems utilize advanced technology to automate the adhesive dispensing process. These systems often include robotic arms, programmable controllers, and precision dispensing heads. Automated systems offer high accuracy, repeatability, and speed, making them ideal for high-volume production lines or applications requiring intricate patterns.
Dual Cartridge Dispensing Guns
Dual cartridge dispensing guns are designed for dispensing two-component adhesives and materials that require precise mixing. These guns feature a dual-barrel design, allowing separate storage and dispensing of the components. They often incorporate mixing nozzles or static mixers to ensure thorough blending during dispensing.
Specialty Dispensing Guns
There are also specialty dispensing guns designed for specific applications. Examples include foam dispensing guns for foam insulation, hot melt glue guns for rapid adhesive bonding, and precision needle dispensing guns for fine and detailed application. These guns cater to specialized needs and provide targeted solutions for specific materials and industries.
Conclusion
Choosing the right adhesive dispensing gun is crucial for achieving accurate, efficient, and consistent application. Consider the nature of your application, the viscosity of the adhesive, the required precision, and the dispensing volume to determine the most suitable type of gun for your needs. Whether you opt for manual handheld guns, pneumatic systems, battery-powered or electric guns, automated systems, dual cartridge guns, or specialty guns, Haijing has many options to meet your requirements.
As a professional dispensing gun manufacturer, Haijing is committed to delivering high-quality, reliable, and innovative dispensing solutions. Our products are designed to enhance your adhesive dispensing processes, improve productivity, and ensure precise application. Explore our extensive range of adhesive dispensing guns and trust Haijing to provide the tools you need to achieve optimal results.