Eco-Friendly Initiatives in Epoxy Cartridge Manufacturing
Views: 2 Author: Site Editor Publish Time: 2023-11-04 Origin: Site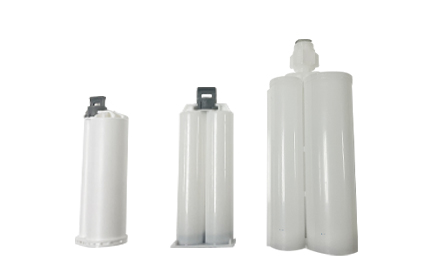 In an era where environmental sustainability is a global concern, industries of all types are seeking ways to reduce their ecological footprint. The manufacturing sector, including the production of 2 part epoxy cartridges, is no exception. Epoxy adhesives are indispensable in various industries, from construction to automotive, but their manufacturing can have environmental impacts. In this article, we will explore eco-friendly initiatives in 2 part epoxy cartridge manufacturing and how these efforts are helping reduce the industry's environmental impact.
Understanding 2 Part Epoxy Cartridges
What Are 2 Part Epoxy Cartridges?
2 part epoxy cartridges, also known as dual cartridges, are essential tools for dispensing two-component epoxy adhesives and sealants. These cartridges typically consist of two separate compartments that hold the epoxy resin and the hardener until they are ready to be mixed and dispensed. They are widely used in various applications, from bonding and sealing to construction and manufacturing.
The Environmental Challenge
While epoxy adhesives themselves are valued for their durability and performance, their production can pose environmental challenges. Traditional manufacturing processes may involve the use of solvents, energy-intensive operations, and the generation of waste. Recognizing these issues, the epoxy cartridge manufacturing industry has been actively working to implement eco-friendly initiatives.
Eco-Friendly Initiatives in 2 Part Epoxy Cartridge Manufacturing
1. Reduced Waste
- Optimized Cartridge Design
Manufacturers have been focusing on designing 2 part epoxy cartridges with minimal material waste. By optimizing cartridge shapes and sizes, they can reduce excess material that would otherwise be discarded during production.
- Customized Cartridges
Customized cartridge options allow users to order cartridges that precisely match their project requirements. This reduces the likelihood of unused epoxy components going to waste.
2. Water-Based Adhesives
The shift toward water-based epoxy adhesives has been a significant eco-friendly initiative. Water-based formulations produce fewer volatile organic compounds (VOCs) during production, contributing to cleaner air quality. Additionally, water-based adhesives often require less energy during manufacturing.
3. Energy Efficiency
Manufacturers are investing in energy-efficient production processes and machinery. This not only reduces energy consumption but also lowers greenhouse gas emissions associated with manufacturing.
4. Solvent Reduction
Reducing or eliminating the use of solvents in adhesive formulations has become a key initiative. Solvent-free adhesives are not only more environmentally friendly but also safer for workers and end-users.
5. Sustainable Sourcing
Many epoxy cartridge manufacturers are sourcing raw materials sustainably. This includes responsibly harvested wood for packaging, recycled plastics for cartridge components, and eco-friendly ink and labels.
6. Recycling Programs
Some manufacturers have introduced recycling programs for used epoxy cartridges. These programs aim to divert used cartridges from landfills, encouraging responsible disposal and reuse of materials.
7. Eco-Friendly Packaging
Eco-friendly packaging materials, such as biodegradable or recyclable options, are increasingly being used to reduce the environmental impact of 2 part epoxy cartridges from production to disposal.
At Haijing Bonding, we are committed to eco-friendly initiatives in 2 part epoxy cartridge manufacturing. As a professional dual cartridge manufacturer, we have implemented various environmentally conscious practices to reduce our ecological footprint.
Conclusion
Eco-friendly initiatives in 2 part epoxy cartridge manufacturing are playing a vital role in reducing the environmental impact of epoxy adhesives. From optimizing cartridge design to using water-based adhesives and sustainable sourcing, manufacturers like Haijing Bonding are actively contributing to a greener and more sustainable future for the industry. As consumers and businesses alike become more environmentally conscious, these initiatives become increasingly important in shaping the future of manufacturing.