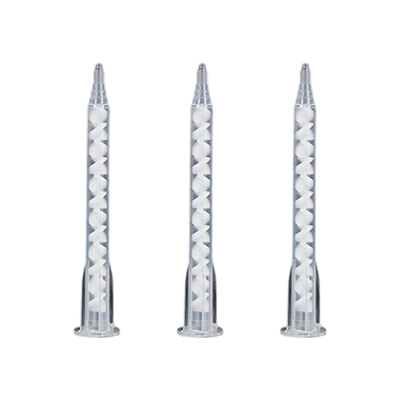 In the world of machinery and manufacturing, precision and efficiency are paramount. Whether you're involved in the production of adhesives, coatings, sealants, or other industrial processes, achieving consistent and homogeneous mixing of materials is crucial. This is where disposable static mixers come into play. In this article, we will delve into the importance, advantages, and applications of disposable static mixers in the machinery industry.
What Are Disposable Static Mixers?
Disposable static mixers, also known as motionless mixers, are ingenious devices designed to mix two or more components thoroughly without the need for any moving parts. Unlike traditional dynamic mixers, which rely on rotating blades or impellers to blend materials, static mixers employ a stationary geometry to achieve the desired mixing.
The Working Principle
Flow Division and Re-Combination
Disposable static mixers function based on a simple yet effective principle - flow division and re-combination. When two or more materials with different viscosities and properties are introduced into the mixer, they flow through a series of stationary elements, typically made of a spiral or helical design. These elements split and recombine the flow streams repeatedly, promoting intermixing.
Advantages of Disposable Static Mixers
Disposable static mixers offer numerous advantages that have made them an indispensable tool in the machinery industry:
1. Precise Mixing:
One of the primary benefits of static mixers is their ability to achieve precise and consistent mixing, even with highly viscous or reactive materials. This ensures product quality and uniformity, reducing the likelihood of defects and rework.
2. No Moving Parts:
Unlike dynamic mixers, disposable static mixers have no moving parts, which means there's minimal maintenance required. This reduces downtime, lowers maintenance costs, and increases overall operational efficiency.
3. Energy Efficiency:
Static mixers do not require external energy sources, such as electric motors or compressed air, to operate. This makes them highly energy-efficient, contributing to cost savings and environmental sustainability.
4. Easy Installation:
Disposable static mixers are easy to install and integrate into existing machinery and production lines. They come in various sizes and configurations to accommodate specific application requirements.
5. Reduced Waste:
Static mixers minimize material waste by ensuring that all components are thoroughly mixed. This is particularly valuable when working with expensive or sensitive materials.
Applications in the Machinery Industry
Disposable static mixers find applications across a wide range of industries within the machinery sector:
1. Adhesives and Sealants:
In the production of adhesives and sealants, achieving a consistent mix of resin and hardener is crucial for product performance. Static mixers ensure that these components are blended uniformly, enhancing adhesive strength and reliability.
2. Paints and Coatings:
Static mixers are used to mix pigments, solvents, and other additives in the production of paints and coatings. This results in a homogeneous product with consistent color and finish.
3. Chemical Processing:
In chemical manufacturing, precise mixing is essential for reactions to occur as intended. Static mixers are employed to blend reactants accurately, reducing the likelihood of unwanted by-products and improving yield.
4. Pharmaceuticals:
The pharmaceutical industry relies on static mixers for the uniform blending of active pharmaceutical ingredients (APIs) with excipients, ensuring dosage accuracy and therapeutic efficacy.
5. Food and Beverage:
Static mixers play a role in food processing by efficiently blending ingredients in products like sauces, dressings, and beverages. They help maintain product quality and taste consistency.
6. Water Treatment:
In water treatment facilities, static mixers are used to disperse and mix chemicals for disinfection and pH adjustment, ensuring the safety of drinking water.
Conclusion
In conclusion, disposable static mixers have revolutionized the machinery industry by providing an efficient, cost-effective, and environmentally friendly solution for achieving precise material mixing. Whether you are involved in adhesives, coatings, chemical processing, pharmaceuticals, or any other industry, static mixers have a vital role to play in enhancing product quality and manufacturing efficiency. When you need reliable disposable static mixers, turn to Haijing Bonding, a trusted manufacturer dedicated to meeting your mixing needs.
Haijing Bonding is a professional disposable static mixer manufacturer, offering innovative solutions for various industrial applications. With a dedication to precision engineering and a commitment to customer satisfaction, Haijing Bonding provides high-quality static mixers designed to meet the specific needs of businesses across industries.