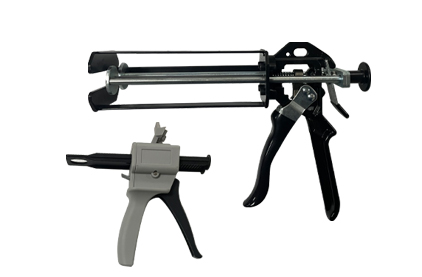 Epoxy dispensing guns are essential tools in a wide range of industries, providing precise and controlled application of epoxy resins. When it comes to choosing the right epoxy dispensing gun for your application, two primary options stand out: manual and pneumatic. Each type offers its own set of advantages and considerations. In this article, we'll delve into the differences between manual and pneumatic epoxy dispensing guns, helping you make an informed choice for your specific needs.
Manual Epoxy Dispensing Guns: Control in Your Hands
Manual dispensing guns are operated by hand, allowing the user to control the epoxy application process directly. Here are some key features and benefits:
Advantages of Manual Dispensing Guns
1. Precision: Manual guns offer high precision in epoxy application, making them suitable for intricate work where accuracy is paramount. This precision is especially crucial in industries such as electronics, jewelry making, and crafts.
2. Simplicity: Manual guns are easy to operate and require minimal setup. This simplicity makes them an excellent choice for smaller projects and tasks that don't demand high production rates.
3. Portability: Manual dispensing guns are often compact and lightweight, making them easily portable. This is advantageous for tasks that require mobility or for situations where workspace is limited.
Considerations for Manual Dispensing Guns
1. Labor-Intensive: Manual dispensing can be labor-intensive for larger projects or applications that require consistent and frequent dispensing. This might not be the most efficient option for high-volume production environments.
2. Speed: While manual guns offer precision, they may not be as fast as their pneumatic counterparts, potentially impacting productivity in situations where time is a critical factor.
Pneumatic Epoxy Dispensing Guns: Power and Efficiency
Pneumatic dispensing guns are powered by compressed air and offer automated dispensing capabilities. Let's explore their features and benefits:
Advantages of Pneumatic Dispensing Guns
1. Consistency: Pneumatic guns provide consistent and repeatable epoxy application, ensuring uniform results even in high-production environments. This makes them suitable for industries such as automotive, electronics manufacturing, and medical device assembly.
2. Speed and Efficiency: Pneumatic guns are faster in dispensing epoxy compared to manual guns. This increased speed boosts productivity and throughput, making them a preferred choice for large-scale projects.
3. Reduced Fatigue: Pneumatic guns require less manual effort, reducing operator fatigue over extended periods. This is particularly beneficial in situations where operators are dispensing epoxy for extended durations.
Considerations for Pneumatic Dispensing Guns
1. Setup and Maintenance: Pneumatic guns require a compressed air source and may involve more complex setup and maintenance than manual guns. This includes ensuring a reliable air supply and occasional maintenance of pneumatic components.
2. Initial Investment: Pneumatic dispensing guns generally have a higher upfront cost due to the added automation and technology involved. However, the increased efficiency and productivity often outweigh this initial investment in the long run.
Choosing the Right Option for Your Application
The decision between manual and pneumatic epoxy dispensing guns ultimately depends on your specific application requirements. Here are some scenarios where each type excels:
Choose Manual Dispensing Guns When:
• Precision and intricate application are crucial.
• Mobility and portability are required.
• Project volume is relatively low.
Choose Pneumatic Dispensing Guns When:
• Consistency and speed are paramount.
• High-volume production demands efficiency.
• Operator fatigue needs to be minimized.
Conclusion
In the world of epoxy dispensing, both manual and pneumatic guns have their place. Manual guns offer unparalleled precision and simplicity for delicate projects, while pneumatic guns bring power and efficiency to high-production environments. Choosing the right type of epoxy dispensing gun requires an assessment of your project's needs, production volume, and desired outcomes.
At Haijing, we take pride in being a professional epoxy dispensing guns manufacturer. With a commitment to innovation and quality, we offer a range of manual and pneumatic dispensing solutions to cater to diverse industries. Whether you're pursuing intricate crafts or managing large-scale production, our epoxy dispensing guns are designed to meet your specific needs. Contact us today to learn more about how our products can elevate your epoxy application processes.