Common Applications for Epoxy Dispensing Guns
Views: 5 Author: Site Editor Publish Time: 2023-08-17 Origin: Site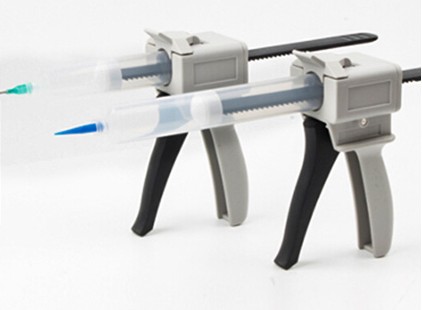 Epoxy dispensing guns have revolutionized numerous industries by providing an efficient and precise way to apply epoxy resins. These versatile tools offer controlled and accurate dispensing, making them essential for various applications. In this article, we'll explore some of the most common uses for epoxy dispensing guns and how they contribute to improved outcomes in different sectors.
1. Electronics Assembly and Potting
Epoxy dispensing guns are widely employed in the electronics industry for applications like component encapsulation and potting. Potting involves filling electronic enclosures with epoxy to protect delicate components from moisture, dust, and other environmental factors. The controlled dispensing provided by epoxy guns ensures that intricate circuitry remains untouched during the potting process, leading to reliable and durable electronic devices.
2. Adhesive Bonding
Epoxy dispensing guns play a pivotal role in adhesive bonding applications, facilitating strong and long-lasting connections between various materials. From bonding metals, plastics, and ceramics to joining composite materials, epoxy adhesives provide exceptional structural integrity. Dispensing guns enable precise adhesive application, which is critical in industries like aerospace, automotive, and construction, where reliability is paramount.
3. Jewelry Making
In the realm of creative arts, epoxy dispensing guns have found their place in jewelry making. These guns offer jewelers the ability to accurately and delicately apply epoxy to secure gemstones, beads, and other embellishments onto jewelry pieces. The controlled dispensing prevents excess epoxy from marring the aesthetics of the jewelry and ensures secure adhesion while maintaining the artistic integrity of the piece.
4. DIY Home Repairs
For DIY enthusiasts and homeowners, epoxy dispensing guns are valuable tools for various repair projects. From fixing broken ceramics and glassware to mending wooden furniture joints, epoxy adhesives offer strong bonds that stand the test of time. Epoxy dispensing guns simplify the application process, allowing even beginners to achieve professional-looking repairs with ease.
5. Automotive Repairs
The automotive industry benefits greatly from the precision offered by epoxy dispensing guns. Whether it's repairing cracked plastic components, sealing leaks, or affixing interior trims, epoxy dispensing guns ensure consistent and reliable application. This leads to improved aesthetics, longevity, and overall vehicle performance.
6. Dental and Medical Applications
In the field of healthcare, epoxy dispensing guns are used for various applications, including dental prosthetics and medical device assembly. Dental laboratories use epoxy to bond materials for creating dental appliances like dentures and crowns. Additionally, epoxy dispensing guns aid in assembling intricate medical devices where precision and biocompatibility are critical.
7. Crafts and Hobbies
Epoxy dispensing guns have found their way into the hearts of crafters and hobbyists. From model building and miniature terrain creation to scrapbooking and mixed media art, these guns allow for controlled and clean application of epoxy adhesives. This ensures that intricate details are preserved without the mess associated with traditional adhesive application methods.
8. Industrial Prototyping
In the realm of industrial prototyping, epoxy dispensing guns offer efficient ways to create and test prototypes. These guns enable engineers and designers to accurately dispense epoxy resins onto various substrates, creating functional prototypes and models. The controlled dispensing ensures that precise amounts of epoxy are applied, leading to accurate representations of the final product.
Conclusion
Epoxy dispensing guns have become indispensable tools in a wide range of industries and applications. Their ability to provide controlled and accurate epoxy application has transformed the way we approach tasks, from electronics assembly to creative arts. As technology and manufacturing continue to evolve, epoxy dispensing guns will undoubtedly remain at the forefront of innovation, driving efficiency and precision across diverse sectors.
At Haijing, we take pride in being a professional epoxy dispensing guns manufacturer. With a commitment to quality and innovation, we provide a wide range of epoxy dispensing solutions to cater to the needs of various industries. Whether you're in electronics, automotive, crafts, or any other field, our epoxy dispensing guns are designed to deliver reliable performance and exceptional results. Contact us today to learn more about how our products can elevate your epoxy dispensing processes.