Advantages of Using Disposable Static Mixers in Industrial Applications
Views: 7 Author: Site Editor Publish Time: 2023-07-30 Origin: Site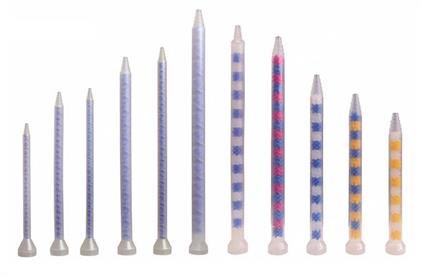 In the ever-evolving landscape of industrial processes, the need for efficient mixing solutions is paramount. Static mixers play a crucial role in achieving uniformity and homogeneity in various industries, ranging from chemical processing to pharmaceuticals. With advancements in technology, disposable static mixers have emerged as a game-changer, providing numerous advantages over their traditional counterparts. In this article, we will explore the benefits of using disposable static mixers in industrial applications, with a focus on custom static mixers tailored to specific requirements.
1. Enhanced Efficiency and Reduced Downtime
Disposable static mixers are designed for single-use applications, eliminating the need for cleaning and maintenance between batches. This feature significantly reduces downtime, allowing for continuous and uninterrupted production. Without the risk of cross-contamination, manufacturers can enjoy increased productivity and faster turnaround times, ultimately leading to cost savings and enhanced operational efficiency.
2. Consistent Quality and Performance
Custom static mixers are engineered to meet precise requirements, ensuring a uniform and accurate mix every time. The tailored design allows for optimal mixing of even the most challenging materials, such as high-viscosity fluids or those with varying densities. This consistency in quality and performance is essential in industries where product uniformity directly impacts the result, such as pharmaceuticals and food processing.
3. Cost-Effectiveness and Waste Reduction
Investing in disposable static mixers can lead to substantial cost savings in the long run. Traditional static mixers often incur expenses related to cleaning, maintenance, and spare parts. By transitioning to disposable options, manufacturers can eliminate these ongoing costs and allocate resources more efficiently. Additionally, the reduction in waste generated during cleaning processes contributes to a more sustainable and environmentally friendly approach to production.
4. Flexibility and Customizability
One of the most significant advantages of disposable static mixers is their flexibility in design and customizability. Manufacturers can work closely with suppliers to create custom static mixers tailored to their specific application needs. Whether it's adjusting the length, diameter, or the number of elements, the ability to customize ensures that the mixer precisely matches the unique process requirements, optimizing performance and overall efficiency.
5. Reduced Contamination Risks
Disposable static mixers offer a fresh, uncontaminated surface for each batch, making them ideal for applications where maintaining purity is critical. Industries like biopharmaceuticals and electronics require sterile environments to prevent cross-contamination and ensure product integrity. Disposable static mixers play a vital role in adhering to these stringent cleanliness standards, reducing the risk of costly product recalls and reputation damage.
6. Faster Prototyping and Product Development
Custom static mixers in disposable formats are particularly advantageous during the prototyping and product development stages. They allow manufacturers to experiment with different configurations and designs without the need for a significant upfront investment. Rapid prototyping with disposable static mixers accelerates the development process, leading to faster time-to-market for new products and innovations.
7. Single-Use Bioprocessing and Pharmaceuticals
The rise of single-use bioprocessing in the pharmaceutical industry has further fueled the adoption of disposable static mixers. These mixers are ideal for biopharmaceutical applications, where maintaining sterility and preventing cross-contamination are of utmost importance. By using disposable static mixers, manufacturers can streamline their bioprocessing operations, reduce the risk of contamination, and improve overall process efficiency.
8. Simplified Regulatory Compliance
Disposable static mixers can ease the burden of meeting stringent regulatory requirements in various industries. As they are designed for single-use, there is less risk of residual material buildup or carryover from previous batches. This simplifies the validation process and ensures compliance with industry standards and regulations, facilitating audits and inspections.
Conclusion
In conclusion, disposable static mixers have revolutionized industrial processes by offering a range of advantages over traditional static mixers. From enhanced efficiency and cost-effectiveness to reduced contamination risks and simplified regulatory compliance, the benefits of using disposable static mixers are compelling. Moreover, the ability to customize these mixers to suit specific application requirements further solidifies their position as a cutting-edge solution for industries seeking optimized mixing processes. As technology continues to advance, the adoption of disposable static mixers will likely continue to grow, transforming the way industries approach their mixing needs and paving the way for more efficient and sustainable production practices.
If you're looking for high-quality disposable static mixer nozzles to enhance your industrial processes, Haijing is here to help. As a professional static mixer nozzle manufacturer, Haijing offers a wide range of static mixer solutions tailored to your specific needs. With their expertise and commitment to innovation, Haijing can provide you with reliable and efficient static mixer nozzles to optimize your industrial processes.